Wolfram Workbench plugin для Eclipse
Wolfram Workbench is an integrated development environment (IDE) for Wolfram products such as Mathematica, gridMathematica, and webMathematica.
Programmers who want to develop code written in the Mathematica language can use Workbench to:
Work with code in a specialized editor
Debug programs at the source level
Profile the code's execution
Develop and run tests
Work with Wolfram technologies
Build and deploy Mathematica packages
Code better in an integrated workgroup environment
Features
Project-Based Approach
Wolfram Workbench lets you group files of code and other Mathematica resources into a single component called a project. Many different types of files are supported, including Mathematica code, Mathematica notebooks, Java source and classes for J/Link, database specifications for DatabaseLink, and GUI widgets for GUIKit.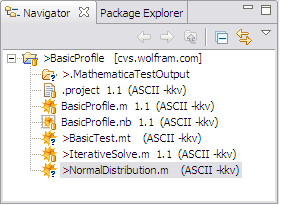 This view of a project's contents is very much like a file system, and from here you can close or open the folders to show their contents. You can also add and then work with any type of file that might be necessary for your work.
Files in Workbench
The Mathematica source code editor provides many important features, including:
Code folding
Code outline
Command completion
Command templates
Comments
Error reporting
Export of definitions
Function definition search
Local-variable coloring
Occurrence marking
Package conversion
Symbol renaming
Syntax highlighting
Text hover with usage information
If you open any file with Mathematica source code it will open in the editor, as in the example shown below.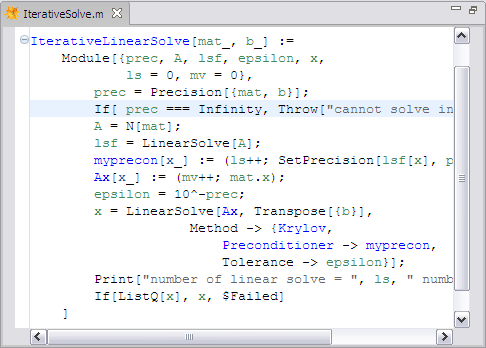 Source code in the Workbench editor
| | |
| --- | --- |
| Категории: | Eclipse tools,Code management |
| Версия: | 1 |
| Лицензия: | Коммерческая |
| Добавлено: | 2006.11.21 |
| Обновлено: | 2006.11.21 |
| Сайт проекта: | Wolfram Workbench |